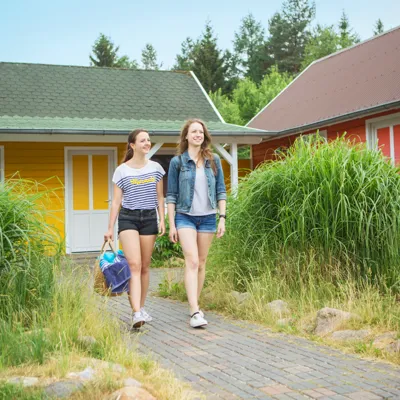 Discover together
The Holiday Camp is our vacation oasis of the Heide Park with direct access to the park.
Spend the night in one of the colorful wooden cabins (with or without bathroom) or in one of the seven original VW T2 Bullis directly on the sandy beach.
Chose between our all-inclusive-package or make your stay as flexible as possible.
If you only book bed and breakfast, you can plan your visit to Heide Park, dinner oder an excursion to the Lüneburger Heide individually.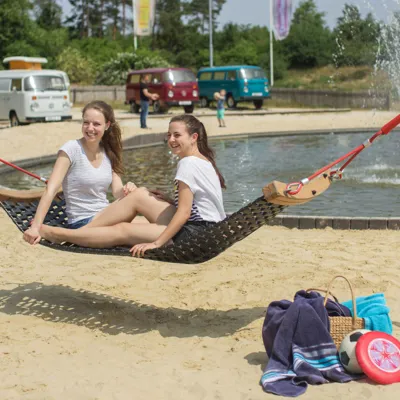 Action & Relaxing
Get active with sports and children's entertainment: Look forward to beach volleyball, soccer on the sandy beach or a game of table tennis after your day at the park. 
Relay after an exciting day on the sandy beach and end the day comfortably with friends or family.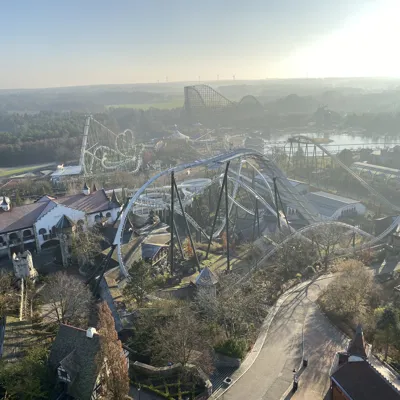 The perfect location in the Lüneburger Heide
The location of the Holiday Camp offers a good starting point for discovery tours in the Lüneburg Heide. So if you not only want to experience the attractions of the Heide Park, but also plan an excursions into the Lüneburg Heide, the Holiday Camp is a great place to be.
With our Flexi Package you can book dinner and the park admission and explore the area on the other days.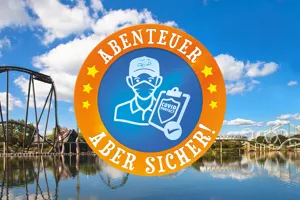 Adventure - but safe!
All the laundry that we use in the Adventure Hotel is cleaned in a product- and environmentally-friendly manner by the Stich laundry, in compliance with all RKI guidelines. This is a RAL quality mark company and is also certified for quality and environmental management.
Independent wash cycle inspections and hygiene tests certify not only cleanliness, but also hygiene in compliance with all environmental protection measures with a modern machine park. It is not only the laundry that is hygienically impeccable: the laundry containers are also disinfected before they are loaded with fresh laundry. Likewise, the hoods are all washed before they arrive on the clean side of production and are sealed in a disinfected container.
We can promise you: Adventure - but safe!