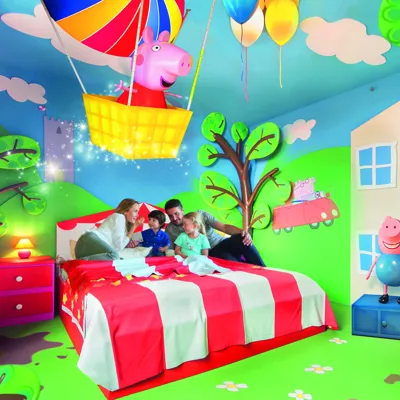 NEW since 2022
Our Team of the Heide Park Resort is excited for the new season! Look forward to the adventure hotel:
7 additional, new "Peppa Pig" rooms
new puzzles in the magic treasure hunt
Adventure vacation at Heide Park
You can now book your short break for the season 2023!
Experience the perfect short vacation with your whole family in 2022: Discover a different fascinating story behind every door in the Abenteuerhotel.
Stay in interactive themed rooms: Immerse yourself in the world of pirates, Peppa Pig or Toothless and his friends.
Guests of the Abendteuerhotel have their own access to Heide Park.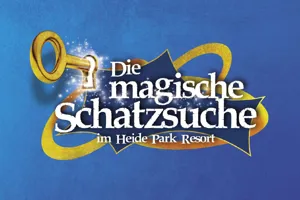 New: the magical treasure hunt
A highlight for all young and old adventurers: The new magical treasure hunt with Lord Alexander Explorus takes you through the entire adventure hotel and works with a lot of distance and more fun! Good luck with the mystery.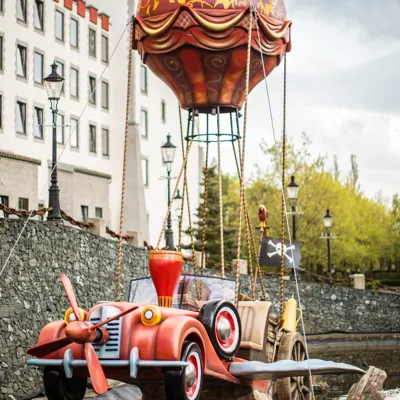 Highlights in our Abenteuerhotel
Exclusive access to Heide Park
Buffet restaurant "La Tortuga" and "Captain Hook" bar
Highlights for kids: indoor playground, laser game (subject to change)
Free WiFi
Free parking
"Always worth a trip, even under corona conditions. Good atmosphere due to the different themed rooms and nice decoration. Direct access to the Heide Park. Good organization at the reception, clean room, also the rest of hotel was clean and especially the nice staff is to be named.

Bathroom/ sauna was out of order due to corna, but that was also announced on the homepage and was also said again when booking.

The park is always worth an experience. Corona concept absolutely noticeable well implemented (of course it is also dependent on the visitors)

... Waiting times low, staff nice."
- Sabrina, 36 (Holidaycheck)