Table reservation breakfast & dinner
For your stay at Heide Park Abenteuerhotel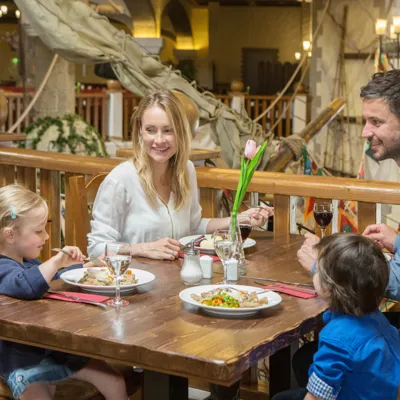 Book your desired time now!
We would like to keep your check-in process as relaxed as possible when you arrive at Heide Park Abenteuerhotel. Therefore, you already have the possibility to reserve your table in the restaurant La Tortuga at your desired time.
Breakfast buffet (1 hour) – always included
Dinner buffet (1,5 hours)
Please note the following points:
Reservations for the entire stay: if you are staying two nights or more at Heide Park Abenteuerhotel please remember to reserve tables for all days. Currently, each reservation must be made individually.
Reservations for breakfast and dinner: Currently, separate reservations are required for both breakfast and dinner table reservations.
Dinner: In many of our accommodation offers, dinner is already included (e.g. all-round carefree package) or you have booked it directly. Please reserve a table for the large evening buffet, so that you get your desired time.
Dive into Sultan's fun pool?
We are happy to announce that we can open the Sultans fun pool for you again. 
This requires a reservation of a time slot (45 minutes).
The reservation can only be made on site and for the same day (subject to availability).
Please refrain from reserving 2 slots in a row out of consideration for other guests.