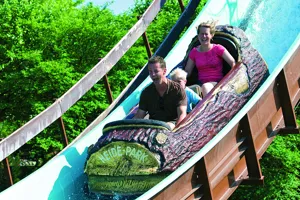 Fun for the whole family
Shoot downhill in a tree trunk at 440 metres! Shoot through wild mountain landscapes, over the Canyon River and past raging rapids. A refreshing experience for young and old, water-loving adventurers!
Wildwasserbahn - Facts
No minimum height, Age: from 4 years
Year of manufacture: 1980, Manufacturer: Mack
Safety:
Children under 8 years must be accompanied by an adult.
Persons with disabilities may not be able to ride.