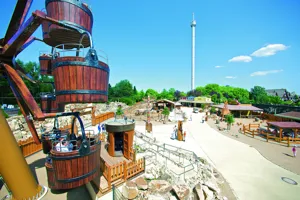 High above Wild Wild West
You can now see the Wild West from above: The Ferris wheel made of wooden wash tubs takes you high above the tepees and saloons of the children's western town. You can take a look at what you're going to do next!
Western-Riesenrad - Facts
No minimum height, No minimum age
Year of manufacture: 2008, Manufacturer: Zierer
Safety:
Children under 8 years must be accompanied by an adult.