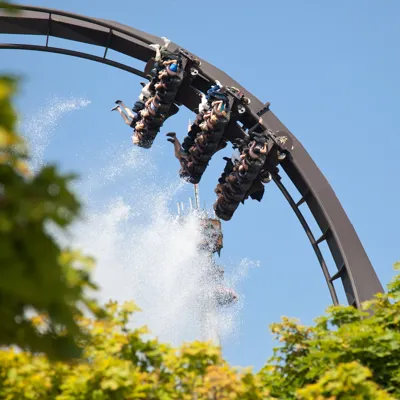 Germany's first Dive Coaster
There is great excitement in the bay of the skull pirates. Mysterious things are happening in the otherwise peaceful, centrally located Heide Park Lake: the body of water is coming to life. A gigantic monster has recently been wreaking its merciless havoc there.
KRAKE, Germany's first Dive Coaster: strapped mercilessly into your seat, with dangling feet searching for a secure hold, you are pulled up to spectacular heights above the Heide Park lake. Once at the top, there is no escape: For agonizing seconds, you look down in panic at the shipwreck in the clutches of the beast. Suddenly you plunge vertically into the depths. Will you escape the beast?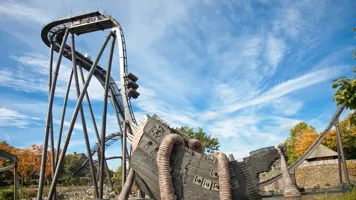 360° experience on KRAKE
Take a virtual plunge into the depths with KRAKE.
Experience Germany's first Dive Coaster!
KRAKE - Facts
Minimum height: 140 cm, Maximum height: 195 cm, Age: 12 years and older
Year of manufacture: 2011, Manufacturer: Bolliger & Mabillard
Safety:
Pregnant women, persons with disabilities, persons with cardiovascular problems as well as back and/or high blood pressure problems may not be able to ride.