Colossos - Kampf der Giganten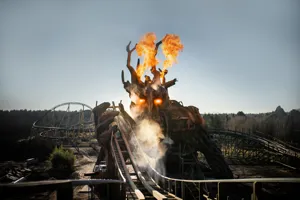 The fight begins...
A DARK POWER THREATENS TO DESTROY COLOSSOS. ONLY YOUR SCREAMS AND THE ENERGY OF COLOSSOS CAN SUBDUE IT.
COLOSSOS IS BACK AND A GIGANTIC BATTLE BETWEEN FIRE AND WOOD BEGINS!
ARE YOU READY?
360° experience on Colossos
Experience Colossos 360° if you dare...
Colossos - Facts
Minimum height: 140 cm, Maximum height: 195 cm, Age: 12 years and over
Year of construction: 2001 (reopening: 2019), Manufacturer: Intamin
Safety:
Persons with disabilities, pregnant women or persons with back and/or high blood pressure problems may not be able to ride.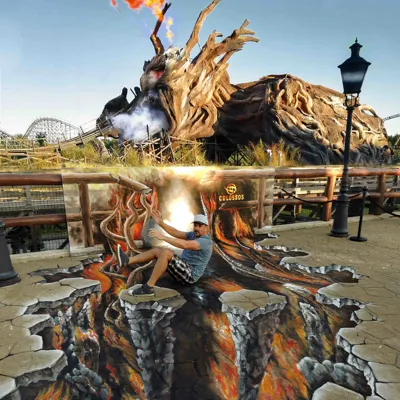 Gigantic Colossos 3D Photo Spot
BECOME AN INSTAGRAM STAR IN JUST 5 STEPS!
1. GO TO THE COLOSSOS TERRACE
2. THINK OF A COOL POSE
3. POSITION YOUR "PHOTOGRAPHER" ON THE PHOTO SPOT
4. TAKE A PHOTO
5. POST PHOTO ON INSTAGRAM WITH HASHTAG #COLOSSOS3D AND TAG YOUR FRIENDS & THE @HEIDEPARKRESORT

THE BEST PHOTOS WILL BE SHARED ON OUR HEIDE PARK INSTAGRAM ACCOUNT!