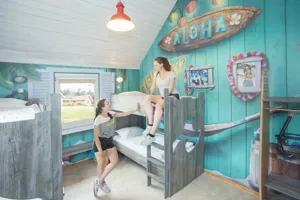 Holiday Camp
The perfect place for those who like the maximum of flexibility! Stay with your friends or family in our basic or themed cabins during the season 2023. Enjoy the casual and relaxed atmosphere of the Holiday Camp at Heide Park Resort.
You can reach the Heide Park via the exclusive camp access.
Located in the middle of the Lüneburger Heide, the Holiday Camp is also the perfect place to go on an excursion in the surrounding area.
(Example picture: "Aloha cabins without a bathroom")
Book now
Abenteuerhotel
Become an adventurer and experience your extraordinary short break in great themed rooms in the season 2023!
Stay with "Peppa Pig", hunt ghosts in our "Ghostbusters" themed rooms or become a Viking in our "Dragon Taming" rooms.
(Example picture: "Peppa Pig Super Premium" room)
Book now