Important information for your visit!
As of October, 11th 2021
All information for your park visit:
A negative COVID test result is not needed to enter the park. 

Dated day tickets and free reservation tickets (mandatory for everyone who already has an undated ticket or an annual pass / season pass) and parking space tickets can now be booked.

Of course, we do everything to ensure that you feel completely safe with us - it is imperative that you observe all hygiene and safety regulations before your visit and inform yourself about restrictions during your visit.
All information for your overnight stay with arrivals from October 11th, 2021:
Overnight guests no longer need to present a negative test from October 11th.
Depending on the incidence in the Heidekreis the regulation can change at any time. Please inform yourself on our website immediately before your arrival. We reserve the right to reintroduce the obligation to test.
For your own safety and for the safety of the other guests and all employees, we still advise you to get tested before your visit. The next Corona test center is in Soltau - online registration, address, opening times and costs can be found here.
All further details and information on the requirements and restrictions can be found here.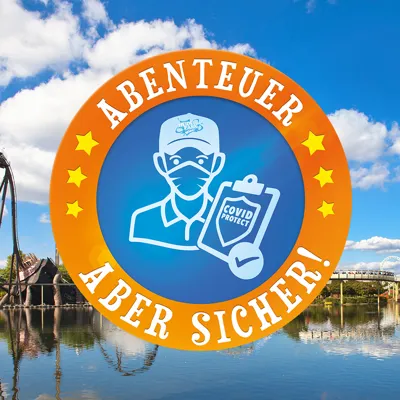 We promise you a safe adventure!
Book securely: Our rebooking guarantee applies to all hotel and camp bookings until further notice.
Stay overnight safely: There are also extensive measure in the Adventure Hotel and our Holiday Camp so that you can start your adventure safely.
Experience safely: We have developed a comprehensive hygiene and safety concept so that you can feel safe at all times during your visit.
Please make sure to get all the current information on applicable safety and hygiene measures, applicable rules of conduct during your stay and possible restrictions on our website BEFORE your visit the Heide Park Resort.
Subject to change.