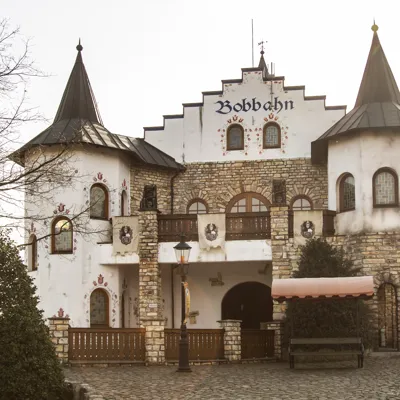 Shoot through the channel.
Are you ready for steep turns at extreme angles, for a ride at 50 km/h through the ice channel? Do you dare to go down our bobsleigh track? Just like in a real bobsleigh run, the bobsleighs shoot through the narrow channel from a height of 27 metres: a breathtaking perspective you won't soon forget. This track is over 900 metres long - and makes even ice-cold hearts melt with excitement!
Bobbahn - Facts
Minimum height: 120 cm, age: 6 years and older
Year of manufacture: 1993, Manufacturer: Mack
Safety:
Children under 8 years of age must be accompanied by an adult.
Pregnant women, persons with disabilities, persons with cardiovascular problems as well as back and/or high blood pressure conditions may not be able to ride.
Bobbahn needs a certain temperature or weather conditions to be able to operate. The ride may not operate until later or at all, depending on the weather conditions.